Plan de voyage / Trip planning
Le départ est imminent!!!
L´entraînement est en cours, je me prépare comme je le peux (il faut aussi travailler de temps en temps). Le sac à dos est prêt, les billets achetés et le parcours dessiné. Voici des cartes ainsi que le plan du voyage, les dates d´arrivée dans chaque ville ainsi que le nombre de kilomètres journaliers prévus.
L´angoisse me tiraille un peu. Sur le papier, c´est long. Mais bon, ils y a des centaines de milliers de pèlerins qui font le même chemin toute les années, donc à la portée de tout un chacun.
En route très bientôt
The departure is imminent!!!
Training is ongoing. I´m preparing the best I can, the weather is terrible but the reality helps in deciding what is following in the backpack (rain pants will follow). The backpack is now ready, the tickets bought and the itinerary planned. Here are the maps, the itinerary plan and the dates of arrival in each town on the way.
I am a bit anxious. It looks like a long way on the paper. Will the legs carry me? But as so many people walk the same way every year, it should be a piece of cake, really.
Let's go!!!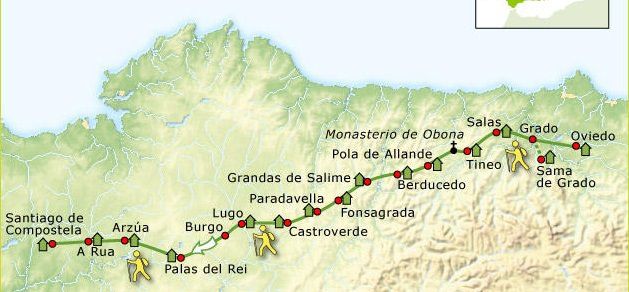 Trosième partie du chemin Oviedo à Saint-Jacques de compostelle/ Third part Oviedo to Santiago di Compostella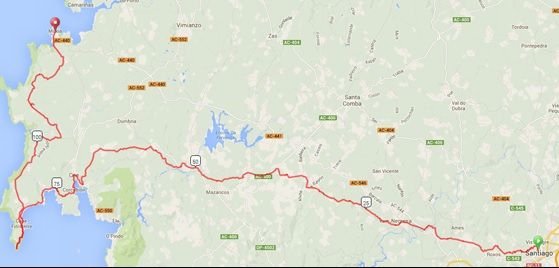 Dernière partie en compagnie de mon charmant mari. Last part together with my lovely husband. Santiago di Compostella to Finisterre and Muxia
Plan de voyage incluant dates